Founder of the company , Jan de Flieger , worked in the garment industry since 1937. He was a capable mechanic sewing machines , and in 1950 founded the company that was engaged in the sale and service of new and used industrial sewing machines.
At first, the new company became a dealer of BROTHER, that did not require a large initial investment . Thirteen years later the Dutch equity is enough to trade in used cars has become the main profile of our activity . It was a very profitable type of business for 20 years in 1970 - 1990s , when the main garment production moved from Europe to North Africa and Asia , which led to the total closure of European garment factories .
By the end of the 1990s, the flow of used cars in Europe dries up , but the Dutch company is born a new rational decision - selling new sewing machines under its own brand GLOBAL. The manufacturers of these machines could be very different company , but the company «IMCA» very meticulously selects manufacturers as cherishes its prestige brand. In the twenty-first century GLOBAL becoming one of the most recognized European brands .
Today, hundreds of equipment GLOBAL equipped garment and footwear enterprises in Spain , the Balkan countries , the Czech Republic , Romania, Bulgaria , Ukraine and Belarus , Russia and the Baltic countries , Latin America and North Africa. Since 2009, the sole representative in Russia becomes "Firm SHVEYMASH ."
GLOBAL brand sewing machines are different technological purposes , but it is particularly strong position in the sale of heavy machinery with triple transport, shoe sewing machines with rotary transport equipment zigzag and blind stitch .
Among heavy machinery GLOBAL, designated common abbreviation WF (Walking Foot), you can find the equipment of different technological applications . Here and machine WF Series 1245 - the same manufacturer and of the structure itself in 1245 , which produced for the firm PFAFF these machines have won quite justifiably popular five or six years ago. But on the other side of the line here heaviest machine sewing motorcycle seats, heavy tents and other similar articles of Class WF 9204 . This low speed machines, but with a stitch length of 12 mm and a lifting foot 20 mm. The program has a machine with a larger 750 mm flying sleeves - WF 9204-75. However, the record is necessary to recognize the machine class 920 WF LXH.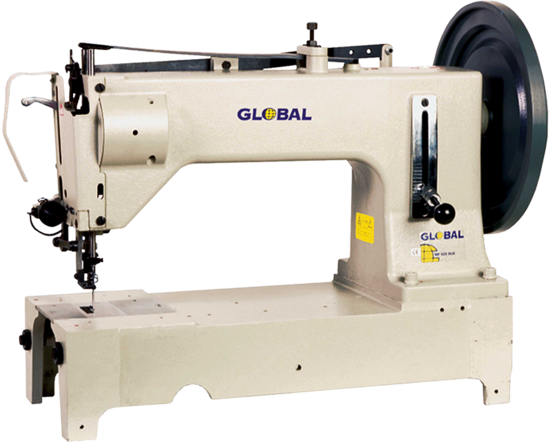 In addition to direct proposals DUERKOPP-ADLER equipment under the original brand GLOBAL supplies and other machines of this manufacturer of the previous generation , which are produced in the Czech Republic : LP 1971-7 classes end cutting mechanism with independent drive and 1971 LH-NP-AUT with a large hook and very narrow column.
In addition, GLOBAL has an extensive offering of machines with core platform and disk motors material in China. So varied offer shoe machines from different manufacturers can meet the manufacturers of shoes with any budget to purchase the equipment .
GLOBAL offers consumers a wide range of blind stitch machines for different purposes and the price level , from the most simple and cheap equipment to the highest consumer properties. As a final highest levels of development need to mark the class BM 345 HS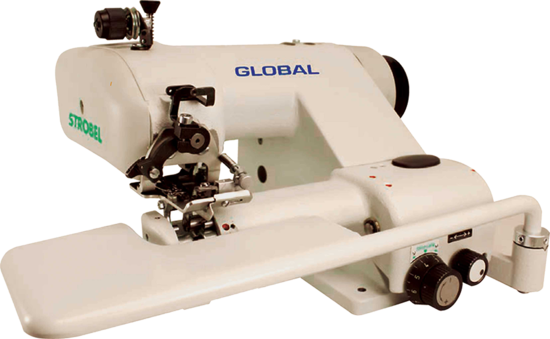 Manufacturer of this machine is the famous German firm STROBEL, its design parameters it is more close to the other original class 103-180 . It can perform the widest range of blind stitch operations. The machine goes through fine cross joints , leaving no traces on the face , handles materials from light to heavy due to the possibility of fine adjustment puncture depth can perform sparse lines , performing weave through one cycle of movement . The most surprising thing is the price of this machine . She and a half times lower than the same equipment Bavarian manufacturer under the original brand . This is achieved through the use of motors and automation company «Ho Hsing», simplified tables and special intelligent design simplification , which does not affect the quality of the paving machine stitches . "Firm SHVEYMASH " predicts that this machine will "hit" next year, because even the first samples were scattered within two weeks . Bavarian company even allows to put on the machine its brand - STROBEL.
Enormous attention to GLOBAL zigzag stitch machines , ranging from traditional to machines with cylindrical sleeve series LZC, coring sleeve series LPC, most heavy machinery and vehicles with extended 750 mm sleeve . Such a wide selection of cars zigzag stitch is not in the program no other firm .
Consider as an example a car class ZZ 9567-75 XL-P-AUT. This machine is the distance from the needle to the sleeve bearing 750 mm and a height of 165 mm Sleeve ( 50 mm above the standard ) . The machine can be equipped with different cams , given configuration stitch width up to 10 mm. By request you can purchase up to 14 additional cams. The machine is equipped with a pulling roller for better promotion of semi . Automation system in this machine provides automatic drive , electromagnetic thread trimming mechanism and presser foot lift to a height of 12 mm , pneumatic mechanisms tack and lifting the pinch roll . Main shaft rotational speed in this car 1400 rev / min. The machine is designed for the connection of parts of large products : awnings, tents , sails , parachutes , hang gliders panels , etc.